New owners take over South Cerney lake site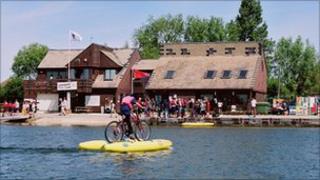 New owners have officially taken over an outdoor education centre in Gloucestershire.
The 125-year lease on the South Cerney Outdoor Education Centre has been sold by Gloucestershire County Council to Prospects Services Limited.
The sale is part of the council's plans to cut £45m over four years by selling off part of its property portfolio.
Prospects said it will initially spend an extra £500,000 on improving the facilities and accommodation on site.
New plans
As well as the initial investment, the company has also said it will create a Prospects Green Centre - a study centre to provide and promote environmental education.
Councillor Ray Theodoulou said: "The deal has protected the site for the future to allow the service to grow and change to meet the needs of young people and other customers across Gloucestershire and beyond as well as protecting the jobs of experienced staff."
Prospects Services Limited has taken on a 125-year lease of the South Cerney site.
Ray Auvray, executive chairman of Prospects, said he was "delighted" the sale had been completed.
"Now we can begin work on our exciting new plans for the centre," he said.
Last year, a community group in the Cotswolds attempted to buy the centre but had to admit defeat after seeing the council's asking price of £875,000.