Coleford traders say parking charges are closing shops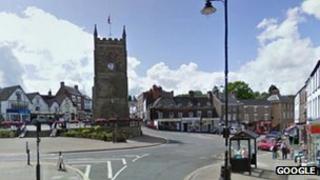 Traders in a Forest of Dean town say parking charges brought in over the summer are crippling their businesses.
Coleford retailers said takings were down and shops were closing.
Parking charges start at 20p an hour compared with an average of £1 an hour in Tewkesbury, £1.30 in the Cotswolds and £1.40 in Cheltenham and Gloucester.
The district council said it was introducing free parking every Saturday from 24 November until Christmas and for the lights switch-ons.
The charges were introduced at 10 car parks in Coleford, Cinderford, Newent, Lydney and Mitcheldean on 1 July.
Two shops in one Coleford street have since closed and another two are closing this week.
The Coleford Business Association said some shops in the town had seen a 25% drop in takings.
'Lights gone out'
Florist Claire Ball said: "I don't think we anticipated how bad it was going to be. The first couple of weeks it was very quiet, but as the months have gone on the lights have gone out of Coleford.
"I'm about £500 a week down and that's over five months now."
Lisa Williams, whose shoe shop is closing, said: "I'll be the third empty shop in this street.
"I've looked at everything that's stacking up against me and the parking charges... is the last negative piece of the jigsaw and I can't see things improving."
Linda White, who manages a bakery in Coleford, said they had started paying the first 20p of customers' parking tickets and taking goods out to people waiting in their cars so they would still shop there.
Brian Robinson, the deputy leader of Forest of Dean District Council, said: "Over 100,000 tickets have been issued since July so regular use of the car parks is happening.
"There's also free parking on street in all of the towns.
"One of the factors which was causing us concern beforehand was that the car parks were full but they weren't always full of people shopping. They were often full of residents parking their cars, people parking long term.
"Only this week I've had a resident say to me how they now like it they can travel in and park and they've got confidence of finding a space when before they couldn't."
A campaign group called Hands Off Our Town (Hoot) has been formed to tackle concerns, such as parking charges, in Lydney, Coleford and Cinderford.