MP petitions for beer duty escalator to be axed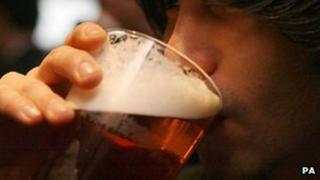 Gloucester's Conservative MP has placed petitions in the city's pubs which call for the government's beer tax escalator to be axed.
Richard Graham said further taxes on beer would lead to more pubs shutting down.
Under the system, beer costs rise by 2% above inflation each year which means that the price of a pint in the UK rises by between 5p and 10p every year.
The government says it will keep the escalator under review.
'Another blow'
"Duty escalators sound harmless but in practice they can mean more expensive petrol and more expensive beer," said Mr Graham.
"Psychologically, it's just another blow for the beer drinker, the pub and the brewery and it's just another thing that might make people at the margins think 'it's too expensive to go to the pub, I'll just buy some alcohol from the supermarket and take it home'," he added.
The British Beer and Pub Association (BBPA) says a fall in beer sales is due to high prices putting people off.
Jared Brown, of Gloucester Brewery, said the industry was being badly squeezed following a poor harvest.
"The extra tax is putting unnecessary pressure on local breweries," he added.
Economic Secretary Sajid Javid said the government would retain the beer escalator but keep it under review.
He said if the escalator was axed the Treasury would need to find another £35m in taxes annually or cut spending.