Cheltenham traffic light switch-off to begin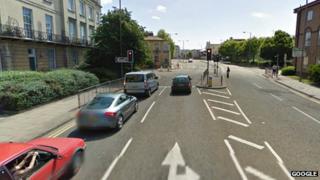 A trial switch-off of a set of traffic lights in Cheltenham to try to cut congestion is to begin on Monday.
The St Margaret's Road lights were due to have been turned off for three weeks last month but the scheme was postponed after a sewer in Bath Road collapsed.
Cheltenham Borough Council delayed the trial because traffic used the route as a diversion to avoid the roadworks.
Temporary traffic islands and new signs will be introduced to ensure drivers are aware of the new road layout.
Chris Riley, from Gloucestershire County Council, said: "With the trial starting on Monday, it should allow for the experiment to conclude before the major run-up to Christmas."