Gloucestershire PCC elections: Young driver safety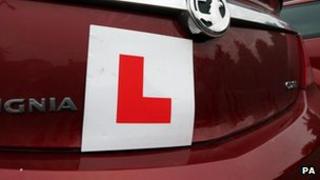 The number of young drivers killed on Gloucestershire's roads has been highlighted as an election issue in the upcoming police elections.
In 2011, there were five deaths and 42 serious injuries involving 15-24 year olds.
To put this figure into context, a total of 20 people died in road crashes in the county and one in four of them were aged between 15 and 24.
In Gloucestershire, road safety for young drivers remains a priority for the Gloucestershire Road Safety Partnership and the police force.
And in recent months, the outgoing police authority has worked with a charity to develop a course specially aimed at 17 year olds in Gloucestershire.
When the police commissioner comes into office later this month, he or she will set the policing priorities.
We have asked the candidates how much of a priority young driver safety will be when they create a new policing plan.
Victoria Atkins - Conservative
One of the ways we can help make our roads safer is looking at youngsters' skills when they get on to our roads after passing their test. I went to visit a fantastic charity called Pathfinder for young people aged 15 and 16 and they teach these young people safety skills on the road before they even take their test. If the commissioner can raise awareness of these sorts of campaigns and charities and perhaps jiggle along some insurance companies to help sponsor these sorts of courses so we all benefit, not just safer roads but also slightly lower insurance premiums.
Alistair Cameron - Liberal Democrats
I know people who've lost young people and it is a very serious issue. Young people going round just able to drive and driving recklessly - there's a massive educational issue with young people and I would support safer driving courses, I think it's really important. I want to work with the county council's road safety unit who are very good at encouraging people to reduce their speed. There are safer driver initiatives. I applaud them and would want to see more of them.
Rupi Dhanda - Labour
There are great groups out there like the Under 17 car club that the police authority and the constabulary are working with at the moment to try and teach 15 and 16 year olds about safety. I haven't made any specific pledges on this, but it's in there in the top 10. It's important and goes hand in hand with other issues such as anti-social behaviour. It's teaching children responsibility, how to be safe on the roads. We all know when we first learn to drive it's the most exciting thing ever and a lot of the youth - and it tends to be the boys unfortunately who have a tendency to drive too fast. It's a way of trying to engage and get them to understand the risks.
Martin Surl - Independent
It's making it a priority area for all the authority areas - the police, the school, the education, the driving schools to prepare young people for the roads. That's my absolute priority - I was at the high school for girls in Gloucester and there were 200 young people and I asked them to put their hands up if they intended to get behind the wheel of a car in the next 18 months - everybody put their hands up without exception. We've not prepared our young people for the road - we prepare them for apprenticeships, for university but we don't prepare them for the roads. As commissioner I would co-ordinate all the activity to make sure we do that.
The police and crime commissioner elections take place on 15 November.