Gloucestershire PCC: Opinions split over police station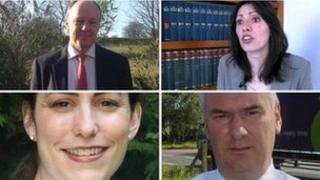 Support for a community police station in Gloucester has split opinion in a debate involving police and crime commissioner candidates.
The future of Barton Street station has not been decided, but two candidates said they wanted it open and two said they valued officers over buildings.
Almost 20 stations have been closed over the past year in the county.
The candidates, standing for election on 15 November, took part in a BBC Radio Gloucestershire debate.
'Scaremonger'
Martin Surl, who is the only Independent candidate in the Gloucestershire elections, said during the debate, held at Stroud High School, that it was "a good police station in the right place".
"The police like it and the public like it, and it is madness to close it. We can afford to keep it, so we'll keep it," he pledged, if elected.
Victoria Atkins, the Conservative party's candidate for the post, took exception and said it was "unfair and wrong" of Mr Surl "to scaremonger in that way".
She indicated that her stance gave greater focus to people than to buildings, saying: "I would rather spend taxpayers money on police officers on the frontline and PCSO's, rather than bricks and mortar for their office facilities."
Some 19 stations have been closed by the force in an attempt to tackle an £18m budget reduction. Only a few buildings have been retained.
'Diverse community'
As for police officers, some have been relocated, some are working out of local council offices and a number of so-called police points have been opened in public places such as libraries and community centres.
There are still question marks over Barton Street and stations in Coleford and Cinderford.
Labour candidate Rupi Dhanda said the Barton Street station "deals with a very diverse community" and people want it kept open.
She spoke highly of the police presence there and the value of having "officers that travel back and forth" along the street.
The fourth candidate, Alistair Cameron, Liberal Democrat, said he felt strongly that Barton Street was an important station, but his main priority if elected would be retaining officers over buildings.
"As a general principle I think it is far better to spend money on police officers and support officers, rather than bricks and mortar," he said.
The Police and Crime Commissioner debate, broadcast on BBC Radio Gloucestershire, can now be heard via the BBC iPlayer.