Royal Mail posts to be axed at Gloucester sorting office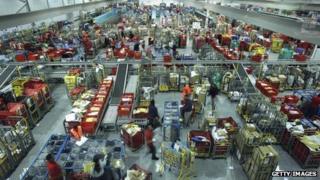 Hundreds of posts are to be axed as Royal Mail has confirmed its Gloucester sorting office will close and be sold.
The company, which is to transfer mail processing operations to Bristol, has said it intends to make the changes "without compulsory redundancies".
It was announced in August that some 380 jobs at the site were under threat.
Paul Trehearne, branch secretary of the Communications Workers Union (CWU), said the news had come "as a smack in the face to our members".
'On the cards'
"It has not come as a shock - it has been on the cards for a number of years at Gloucester," he added.
"We will be working tirelessly to make sure that every one of our members has a satisfactory conclusion to this devastating news."
Royal Mail said the decision was made following a review earlier this year and it had been in consultation with employees and unions for eight months.
Michael Kennedy, a South West director of Royal Mail, said: "These changes to our operations in Gloucester will, unfortunately, impact on some colleagues.
"However, change is absolutely essential to meet customers' expectations of a world class postal service, ensure we operate efficiently and provide a great quality of service in a smaller and radically changing market.
"We have briefed our people on our decision and will be speaking to individuals over the coming weeks about their preferences and the opportunities available.
"We will then aim to match them to a role or discuss how they can leave the business on voluntary terms and the support we can offer in finding new employment."
The transfer of operations from Gloucester to Bristol will begin next year and then the site will be sold.
Some mail processing and collections work will be moved to other Royal Mail sites around the county.
Royal Mail said "huge growth" in electronic communications had meant a decline in overall mail volumes and it was now delivering 58 million items a day compared to 84 million items a day six years ago.