Gloucester ski centre slope is extended to 260m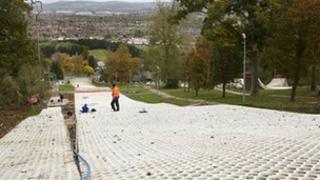 An extended 260m-long (853ft) dry ski slope is to be officially opened in Gloucester later this month.
Gloucester Ski and Snowboard Centre was put up for sale by Jupiter Hotels Ltd in April. Previous owner Ramada Jarvis went into liquidation in 2011.
It was then bought by Bristol-based businessman Mark Hamilton-Davies who wanted to expand the facilities.
The site is also hosting the English Outdoor Championships between 31 August and 1 September 2013.
Centre spokesman Kuda Pfupajena said refurbishment work on the slope was now complete and the run was believed to be the longest in England and Wales.
"The slope is made of a brush matting and is suitable for people of all ages and abilities," he said.
"Compared to real snow it's slightly slower but by spraying a mix of water and silicon on the matting we can speed this up a bit," he added.
As well as hosting the English Outdoor Championships next year it is hoped the venue will attract other competitions in the future.