Gloucester docks silt to be sucked up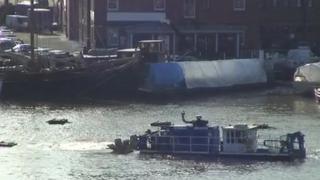 Silt is being sucked up from Gloucester docks using a new type of dredging equipment for the first time.
Previously, injection dredging had been used which disturbed sediment with jets of water and flushed it away.
The docks and surrounding waterways are dredged annually to prevent ships becoming stuck in mud.
The new method of suction dredging will remove sediments from the bed and discharge them back to the River Severn through a floating pipeline.
It is also the first time the suction dredging method has been used anywhere in the country by the Canal and River Trust (CRT).
'More efficient'
Nick Worthington, CRT's waterways manager for Gloucester, said: "We know how important a successful dredging operation is to local businesses and people who use the docks on a regular basis.
"The method we are using aims to be more efficient, so we stand the best chance of increasing the depth of the water to accommodate larger vessels."
Last August at the biennial Tall Ships Festival, several ships became stuck in mud as they arrived for the event.
Mr Worthington said the aim is to achieve a minimum depth of four metres in the areas critical for the deeper draughted vessels expected for the next festival which will be held in May 2013.
The work, which is costing about £80,000, is expected to take two weeks to complete.