Inquiry over Newent Southend Lane illegal travellers site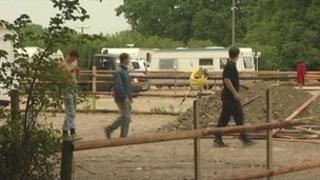 A second public inquiry into the rights of travellers to occupy land they own in Gloucestershire has begun.
There has been a legal battle since families in Newent bought and moved on to a meadow at Southend Lane in 2009.
Then, without planning permission, work was undertaken to install drainage and hard standings before mobile homes and caravans were moved on to the site.
Retrospective planning permission was refused and, in February, the families were told to leave the site.
However an appeal was launched and the families were given a stay of execution pending the results of this new inquiry.
The inquiry, at Newent Community Centre, is expected to last six days and might be attended by local residents who object to the travellers' site.