Jet Age Museum building work gets 'green light'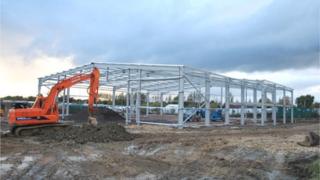 The team behind the creation of a historic jet museum in Gloucestershire hope work will continue "at pace" now a further legal hurdle has been cleared.
After months of waiting, paperwork has been signed meaning building work on the Jet Age Museum can be completed.
The process ran into a hitch when it came to light that two local councils had to rubber stamp the deal.
Museum chairman, John Lewer, said they now have the official green light to finish the project.
It was announced in February that an agreement had been made paving the way for the museum to be built at Gloucestershire Airport in Staverton.
The agreement means the airport land will be leased by the museum for the next 45 years.
'In limbo'
It was thought that phase one of the building work would be completed over the summer, but the legal process was then delayed by paperwork.
Both Gloucester City Council and Cheltenham Borough Council, which own the land where the building will stand, had to rubber stamp the deal.
Mr Lewer said the delay had left the team "in limbo".
"We began our preliminary work on site but the legal paperwork took far longer and will now cost more than we had ever expected," he added.
It is now hoped the shell of the building will be complete by the end of the year and the museum will open in 2013.
Museum trustee and head of operations at the airport, Darren Lewington, said: "The museum build should continue now at pace.
"The thousands of people who turned out at Staverton a few weeks ago for the Vulcan flypast clearly indicates the local interest in historic aviation, which bodes well for the museum's future."
The new museum will house delicate aircraft, such as a 1925 Gloucester Gamecock, and contain archive photos and documents.