Gustav Holst 'rare' composition to be performed in Cheltenham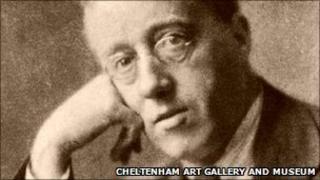 A piece of music by composer Gustav Holst, which was "lost" for half a century, is to be performed in the town of his birth, Cheltenham.
Holst's Wind Quintet is to be performed in its original form, after the score was restored by a musicologist.
Graham Lockwood, chairman of the Holst Birthplace Museum, said it was a "rare opportunity" to hear the music as Holst intended it to be heard.
The concert will take place at St Andrew's Church on Sunday.
The Holst Wind Quintet is usually performed from an edition of the score which is edited.
The original score was published in 1903 but went missing in the 1920s.
It was found by chance in 1978 among papers belonging to Lucy Broadwood, who was one of Holst's musical friends, at Surrey History Centre in Woking.
The score was then edited by Holst's daughter, Imogen, before it was published in 1983.
Musicologist and Holst scholar Raymond Head has restored the score to include some of the music originally omitted.
Mr Lockwood said he believed it would be only the second time the composition would be performed as Holst intended.
"This work is hardly ever performed and to my knowledge the only other opportunity to hear it was at least six years ago at the Cheltenham Festival of Music," he said.
"Along with so much of Holst's music, it's always a joy to provide an opportunity for people to hear it."