Gloucestershire PCC: Labour's Rupi Dhanda queries custody suite cost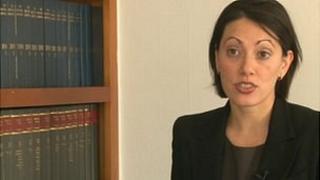 Plans to build a £9m police custody suite in Gloucestershire have been questioned by a police and crime commissioner (PCC) candidate.
Gloucestershire Police Authority put forward the plans to build a 50-cell suite after the need was identified by the police force.
Labour candidate Rupi Dhanda said she acknowledged the need for a new suite but she would review its price tag.
The new PCC will have the final say on it, even if planning approval is given.
She said: "We need to look at just how much is being spent on it and whether resources can be better allocated to police officers and other areas."
The Labour candidate has pledged to protect front-line services but said she would also identify potential areas of savings in order to balance the budget.
Cohesive community
As a "last resort" the police share of the council tax bill may also go up.
She added: "We are already faced with 10% increases with our energy bills - the last thing people of Gloucestershire need is to have is another £10, £20, £30 added to their council tax bill, so for me it's to lobby our MPs to get them on side.
"If our MPs stood up and said this is unacceptable the government would have no choice but to review the issue."
Building on restorative justice in order to help create a more "cohesive" community is another of Mrs Dhanda's key pledges.
She said: "Community policing is the way things have worked for the last five to 10 years and we're moving from that again - that's my concern.
"Police officers are having to patrol larger areas so don't have that connection and can't be there instantly and work with the community."
To combat this, she has pledged for a greater presence of community officers on the ground.
"It's not just getting more officers on the street but also them having a connection with a community, coming out and being known as the local police officer."
In terms of the Community Safety Fund the commissioner would have at their disposal, Mrs Dhanda said, if elected, she would work closely with the voluntary sector.
Mrs Dhanda said she was running under Labour because she believed in its principles of collectivism and working together, but was "her own person" and would have no qualms in challenging the government.
Other people standing in the PCC elections for Gloucestershire are independent candidate Martin Surl, Alistair Cameron for the Liberal Democrats and Victoria Atkins for the Conservatives.