Gloucestershire NFU welcomes Chinese lantern inquiry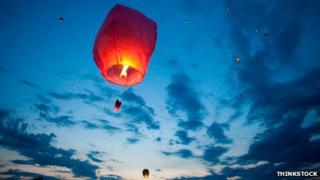 An inquiry into the impact of Chinese lanterns on livestock has been welcomed by the leader of the National Farmers' Union in Gloucestershire.
Charles Mann said it was "an issue" in the county, and it was a "realistic approach to try to find a solution".
The Government has commissioned a study into the lanterns.
Farmers have called for an inquiry for several years, following reports of animals ingesting lanterns, or becoming trapped in them.
Farming minister David Heath said: "We've got to establish whether it is a problem. I'm pretty sure it is."
"[The lanterns] look lovely. Nobody wants to be a spoilsport and say we don't want to have things that people enjoy.
Owl found dead
"But the fact is that the remnants from them, certainly when they have metal parts, can get into cattle feed, into fields and interfere with wildlife.
"The other potential problem is the fire risk.
"We're collecting all the evidence, seeing what they do in other countries where they recognise this problem, and seeing what we can do to make things better."
Last year, a barn owl was found dead after apparently becoming trapped in a lantern on a farm in Berkeley.
Mr Mann said he had heard of "several other" incidents in the county related to the lanterns.
"I myself found one in a horse field near Lechlade. I picked it up and then found 15 others in the same field.
"It's certainly an issue. You get them in grass and they go through the silage maker and into cattle feed."
A study into Chinese lanterns by the Department for the Environment, Food and Rural Affairs (Defra) is to investigate the level of risk they pose to the environment, livestock and crops.