Gloucestershire PCC: Victoria Atkins in crime victim pledge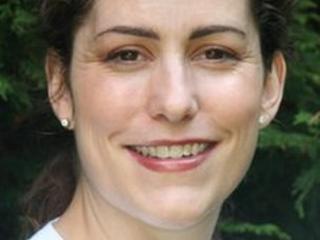 Victims of crime should be placed at the heart of the criminal justice system, a police candidate has said.
Tory candidate Victoria Atkins, has made the pledge after visiting a sexual assault referral centre in Gloucester.
She said: "We need to improve the support process for victims and we need to encourage people to report crime - it doesn't just mean sexual assault but also burglaries, robberies and so on."
The police and crime commissioner elections take place on 15 November.
During the visit, Ms Atkins met staff who helped victims through the process.
"Work at SARC [sexual assault referral centre] shows just how we can treat victims sensitively but also dispassionately so that any complaints they make that go to court can be dealt with properly and in accordance with the law."
'Specialist training'
She has also said she would ensure high profile cases had the necessary resources.
"I think nationally, particularly in light of the Savile allegations and the sexual abuse of vulnerable girls in the north of England there is a general understanding," she continued.
"We need to make sure that police officers who are put in charge of such investigations have the specialist training required in such cases so they can do justice and the wider community."
Ms Atkins has also said by communicating more closely with the courts will help make the county safer.
"It is not in any way to interfere but to make sure they are aware if there is a spate of burglaries so they can decide whether the deterrent effect needs to be increased."
If elected, Ms Atkins has said she would speak to community groups and charities before deciding how to spend the commissioner's Community Safety Fund.
She has also said, although she is running as commissioner under a party banner, her first priority would be serving people in Gloucestershire.
Other people standing in the police and crime commissioner elections for Gloucestershire are Independent candidate, Martin Surl, Alistair Cameron for the Liberal Democrats and Rupi Dhanda for Labour.