Gloucestershire chemo unit stopped by staff shortage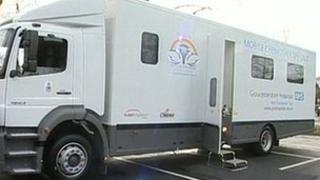 A mobile chemotherapy service in Gloucestershire has been temporarily stopped due to staff shortages, according to an NHS trust.
Gloucestershire Hospitals NHS Foundation Trust said it has too few experienced cancer nurses with chemotherapy training.
Patients will be treated at Cheltenham General Hospital instead.
The vehicle is run by charity Hope for Tomorrow and staffed with two NHS chemotherapy nurses and a driver.
Dr Frank Harsent, chief executive of the trust, has asked patients for their understanding "over the next few months" while it worked to restore the service.
'Recruit'
"We are continuing to seek experienced cancer nurses with specialist training however, this process is regrettably taking longer than we had hoped," he said.
"The safety of our patients is a priority and we will temporarily provide treatment at Cheltenham General Hospital until we recruit the right people to the role."
The staff at the unit are from the hospital's oncology team.
Hope for Tomorrow runs four mobile chemotherapy units including ones in Wiltshire, Somerset, and Hampshire, and is fundraising to create a fifth.
Christine Mills MBE, who launched the Tetbury-based charity in 2003 after her husband died from the disease, said she believed the trust was working to resolve the situation as soon as possible.
She said: "Hope for Tomorrow provides the mobile chemotherapy unit to Cheltenham oncology centre but the operational and staffing side is the responsibility of the Gloucestershire Hospitals NHS Foundation Trust, therefore we are unable to comment from this perspective.
The mobile unit, which costs £260,000 to build and maintain over three years, has been in operation since 2007.
The charity said it has treated more than 3,000 patients and saved them over 70,000 miles of travel.