Cat found six days after fall from Gloucestershire viaduct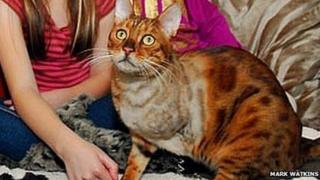 A cat that was found six days after plunging 70ft (21m) from a viaduct in Gloucestershire is "recovering well".
Gus, a Bengal cat, lost a front leg after falling from the viaduct in Frampton Mansell near Stroud.
The 18-month-old pet was discovered hiding under a trailer by a dog walker almost a week after it went missing.
Owner Caroline Bush, 39, said: "I cried with relief when he was found but when I pulled him out, I realised his leg had rotted away."
The missing cat was discovered by a local dog walker, who recognised the distinctively marked pet from posters.
'Huge drop'
"He couldn't walk and when I took him out from under the trailer the smell was horrendous, the sort of smell that you can still smell," said Mrs Bush.
"And I thought he had white paint all over him but it was insect eggs."
Mrs Bush took the badly injured animal to a vets where staff, sceptical about its chances of survival, amputated its front left leg.
"When we took him to the vets, they said if he'd been left another couple of hours he would have been dead," said Mrs Bush.
"But it's a huge drop. How he survived at all, I don't know."
Mrs Bush, who runs a dog walking business, said she had heard that a cat had been seen falling from the viaduct a week earlier but had dismissed the idea that it was Gus.
"It's about half a mile away from our house and we didn't think he would go that far," she said.
"Then we had a call from a lady who had actually seen him fall - she went to find him and was there for over an hour but finally gave up.
'Always been clumsy'
"How he got up there we don't know because it is a huge climb. And he literally just fell off. He didn't jump - he fell.
"But he's always been clumsy - we only had him a week and he fell out of our bedroom window."
Gus has since returned to the family home in Frampton Mansell and, according to Mrs Bush, is recovering well.
"Sadly I didn't have insurance, which is stupid. He was never meant to be an outdoor cat. So I have a huge vet bill," she added.