Gloucestershire PCC: Martin Surl's 'peace and order' pledge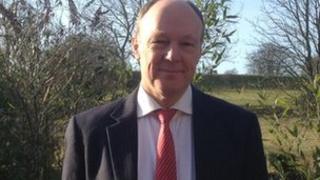 Helping to improve safety for older and younger people will be a key focus for one candidate in the police elections.
Independent Martin Surl has said he will aim to reduce the number of young people being either victims of crime or becoming offenders.
For older people, Mr Surl has said he will ensure they are "not preyed on", feel isolated and unable to seek help.
Mr Surl is one of four people hoping to be elected as Gloucestershire's police and crime commissioner on 15 November.
'Know their beat'
The Independent candidate, who is a retired police officer, has said there is no one clear policy that would solve these issues.
Instead he aimed to foster a style of policing which would bring "peace and good order".
He said: "The key message is for police to know their beat - I know what that means, be it rural or inner city environment, the police have to know their population.
"The old people who are vulnerable, the young people who are starting to drive, any criminals that work in those areas - all these trends, they must know their beat."
In terms of young people, Mr Surl said it was important for the police to help them transition safely into adulthood without getting involved in crime - either as a victim or perpetrator - and to keep them safe on the roads.
Streamline funding
"One example is around safe and sociable driving - I'm absolutely shocked by the number of people that get injured and killed on our roads and yet we do virtually nothing to prepare them," he said.
"We prepare them for university, for apprenticeships but there are no statutory programmes and that's going to change if I'm made commissioner."
Mr Surl has also pledged to streamline police funding of community safety projects to remove any duplication of work.
Other people standing in the police and crime commissioner elections for Gloucestershire are Victoria Atkins for the Conservatives, Alistair Cameron for the Liberal Democrats, and Rupi Dhanda for Labour.