Five Acres college site delay: Council criticised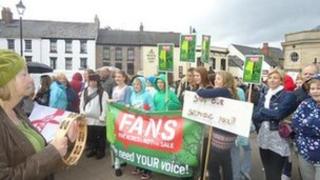 Criticism has been levelled at Forest of Dean District Council for holding up the development of a college site.
The council has not yet approved Gloucestershire College leaving the Five Acres site in Coleford for a new location near Cinderford.
Campaigners in Coleford have said the decision had caused delays and they are keen to develop community facilities.
But the council has said it needs to complete a scrutiny inquiry into the site before making any decisions.
'At the beginning'
Councillor Philip Burford, the chair of the Five Acres Scrutiny Inquiry, said: "The reason for the scrutiny inquiry is to look at possibilities and hear from the interested parties everything which they have to say and what they're thinking.
"It's so that we can come to a conclusion and make recommendations to the district council - we're right at the beginning of the process."
The council has said its inquiry is due to end in November and that it plans to consult the community in a few months' time.
Previously residents had campaigned against the college move but the hope now is to use the site to benefit the community.
Campaigner Julie Sykes said: "What we would like to see is a sustainable community hub.
"The Forest of Dean is a very attractive area for tourism and Coleford is on the border of the Wye Valley so we can also bring in employment, tourism and regenerate the site."