'Dangerous' fireworks seized from house in Tewkesbury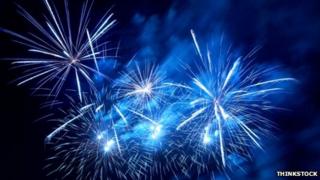 A man has been arrested after "dangerous" fireworks were sold to the public.
Police are trying to trace the products whose names include Grand Missiles, Screaming Missiles and Grave Shaker.
The fireworks are known as category four - and operators need a special licence to set them off.
A man, 33, was held on suspicion of possessing and selling category four fireworks after some were seized from a house in Lancaster Road, Tewkesbury.
PC Chris Barnes said: "We have established some fireworks have been sold to the public and we are anxious to trace them.
"We believe these to be two Grand Missiles, two Screaming Missiles, two Sky Assortment Rockets and one Grave Shaker.
"They are suspected to be category four fireworks and should not be used or handled by the public in any way.
"Should any member of the public be in possession of these fireworks, or know where they are, they should contact the police or the fire service immediately.
"These are highly dangerous fireworks that contain a lot of explosive material and they need to be safely stored or destroyed by professionals."
The fireworks were seized at about 14:30 BST on Wednesday, police said.
They were taken to a safe store and the man has been bailed to return to the police station on 29 November while police continue their investigation.