Badger cull delay: Farmer 'may give up' cattle farming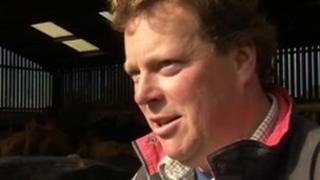 A Gloucestershire beef farmer has said he may have to give up farming cattle because a pilot cull of badgers has been postponed.
David Barton, from near Cirencester, said it was "outrageous" that TB in cattle was not being tackled.
On Tuesday the government said a trial cull in Gloucestershire and Somerset, to assess the impact on cattle TB, would be delayed until next year.
Mr Barton said there was "no point" in restocking his herd.
Mr Barton, who runs Manor Farm, Middle Duntisbourne, said 44 of his cattle had had to be slaughtered since February after they tested positive for TB.
"There's no point in me restocking because of the level of infection in wildlife we have in and around the farm, so I'll most likely have to give up farming cattle," he said.
"Had the pilot culls gone ahead and been successful, and we could have seen that it could be rolled out, it would have given us some hope that we can get on top of this disease, but to leave it out there is an outrage."
Mr Barton said he would be "incredibly sad" to give up farming cattle.
Cotswolds dairy farmer Jan Rowe, who is TB spokesman for the National Farmers Union (NFU), described the decision to postpone the cull as "utter devastation".
"I certainly hope it does go ahead [next year] because we desperately need to get control over the disease in badgers," he said.
The government has delayed the six-week trial until next year after it was realised there are twice as many badgers in the culling zones as previously thought, making it difficult for farmers to kill enough animals in time to affect cattle TB rates.
"This underlines the huge number of badgers that are out there and the problems we are facing," said Mr Rowe.
"This is a diseased badger community and until we start dealing with that disease in the badger population we're going to get nowhere in cattle.
"I'm pretty sure [the cull] will go ahead. It's obviously very challenging but farmers are desperate to get on with this.
"We know vaccines are a potential tool in the future but they're still five, six, seven years away before they can be rolled out to have any effect on TB."
Anti-cull campaigners have welcomed the decision to postpone the trial.