Gloucestershire community health run by new trust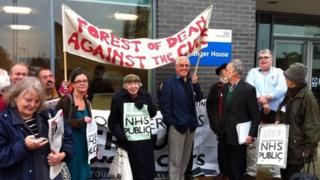 Health bosses in Gloucestershire have voted to apply to set up a new NHS trust to run community health services.
Board members voted unanimously for the option after over 90% of NHS staff and service users who took part in a public consultation said they preferred it.
The other choice was to put services out to competitive tender.
The move comes after a legal battle over NHS plans to change the way the county's health services are run was settled out of court in February.
Michael Lloyd, 76, from Stroud, had argued the NHS acted unlawfully in planning to hand management of county hospitals and some services to a new body.
Following this challenge, the NHS agreed to begin a new process of considering the best way of transferring community services in line with Department of Health policy.
Community health services include nursing, therapy services and eight hospitals.