Cheltenham Racecourse plans second reservoir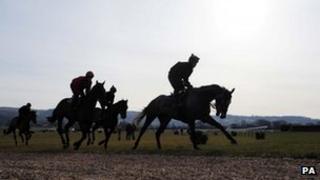 Cheltenham Racecourse is seeking to create a second reservoir in order to become more self-sufficient.
The racecourse has got permission to extract 65,000 cubic metres of water from a brook on the site but can only store 45,000.
Clerk of the course Simon Claisse said: "We are looking at applying for a higher abstraction level and increasing our storage capacity."
An application to the Environment Agency is set to be made by December.
Over the past 10 years, the racecourse has had to supplement its own supply three times with mains water from Severn Trent.
"We really have to look at our own needs but it's so important for the welfare point of view for the horses and the continuity of business during the dry times to have access to the water we need," said Mr Claisse.
The racecourse has said construction work will take about nine months if it gets approval from the Environment Agency.