Gloucester Docks steam dredger running again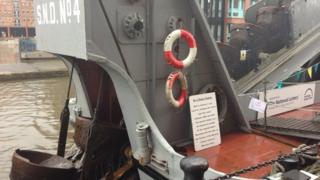 The oldest stream dredger in Europe is back in full working order again.
Dredger SND number 4, which is moored at Gloucester Docks and has sunk twice, was brought back to life thanks to a £43,300 Heritage Lottery Fund grant.
A year-long project was undertaken by the Friends of Gloucester Waterways group to replace boiler tubes on the 1925 vessel.
Spokesman Chris Witts said he was "proud" and "happy" that the effort had been made to save the dredger.
'History'
"It is our history and a bit of Gloucester's heritage," added Mr Witts.
"She has sunk twice, once in the 1950s near Monk Meadow and again in the 1990s at the Docks, so she has a bit of history."
The dredger was built in Holland and operated regularly at Gloucester and Sharpness Docks until 1981 when a replacement diesel electric dredger was introduced.
She has been on display at Gloucester Waterways Museum ever since it opened in 1987.
The Friends of Gloucester Waterways group is now planning ways to use the vessel for school education and public display.
Mr Witts said fuel costs alone were "a few hundred pounds" every time the engine runs, so the group would also need to find ways to raise money in support of the dredger's survival.