Anti-badger cull party pulls out of police commissioner election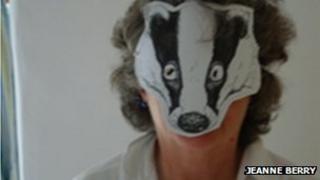 A member of an anti-badger cull group has pulled out of Gloucestershire's police and crime commissioner election.
Jeanne Berry has blamed the £5,000 deposit candidates are required to pay, which is only returnable if they secure 5% of the vote.
She said the deposit would be in addition to the high cost of campaigning which was necessary to stand as a "credible candidate".
Mrs Berry said she had raised awareness of the badger cull across the country.
The campaigner said she had been offered money for the deposit but had decided not to accept on the principle the police elections were not democratic.
"The killer is actually paying for the leaflets and delivering the leaflets - the advice I've taken is that if you can't get leaflets through the doors of people in Gloucestershire, you've had it," Mrs Berry said.
Also standing in the Gloucestershire police and crime commissioner elections are Victoria Atkins (Conservative), Rupi Dhanda (Labour), Alistair Cameron (Liberal Democrat) and independent Martin Surl.