Radio Times archive sells for £1,100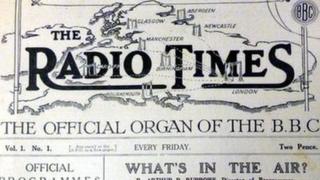 Original designs, mock-ups and printed editions of early copies of the Radio Times have fetched £1,100 at auction.
Among the items for sale was a first edition from September 1923, and designs for the masthead which were not chosen.
Auctioneer Chris Albury, from Dominic Winter Auctioneers, South Cerney, Gloucestershire, said the collection went to a private buyer from Somerset.
The archive was discovered when a woman was helping her parents de-clutter.
Her father remembered a bag full of items that came from a house clearance somewhere on the south coast of England about 30 years ago.
Since then, the archive had been forgotten in a cupboard.
Among items of correspondence for sale was a letter from director of programmes Arthur R Burrows to OH Blake of the publishers George Newnes, asking for changes to be made to the designs.