New dialysis unit costing £1.6m opens in Cinderford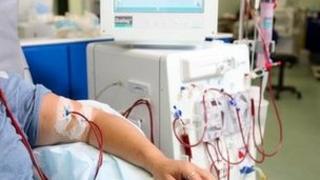 A £1.6m dialysis unit for patients with kidney failure has opened in Gloucestershire.
The Gloucestershire Hospitals NHS Foundation Trust centre on Forest Vale Industrial Estate in Cinderford will serve patients in the Forest of Dean.
It has capacity for 48 patients, with 12 dialysis stations. Patients will no longer have to travel to Gloucester.
NHS Gloucestershire chief executive Jan Stubbings said the unit provided a "much-needed resource".
Ms Stubbings said: "It will enable many dialysis patients to access first-rate treatment in modern, high quality facilities."
Previously patients had to go to the Cotswold and Severn dialysis units at the dialysis centre in Gloucester Royal Hospital.
Patrick Molyneux, leader of Forest of Dean District Council, said: "This new unit will undoubtedly improve healthcare facilities for the local area.
"Localising care and treatment and minimising the number of miles that patients from the district have to travel is a positive way forward."