Richard Atkins visits Cranham Church - the start of the Gustav Holst Way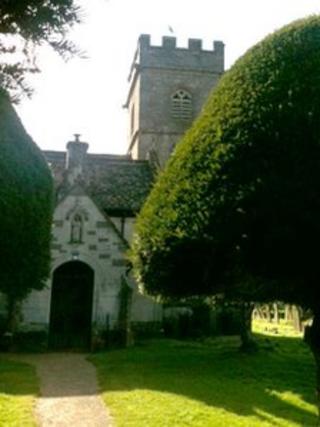 Gloucestershire is a county that resounds to music composed by some of the finest composers.
Ralph Vaughan Williams, born in Down Ampney, whose long life encompassed some of the best known tunes.
Then there is Herbert Howells - born in Lydney - a composer and teacher, most famous for his large output of Anglican church music.
Finally, Hubert Parry, the youngest of six children of Thomas Gambier Parry of Highnam Court and, of course, the composer of "Jerusalem".
But there is a fourth musical giant, Cheltenham-born Gustav Holst whose Planet's Suite is one of the most popular in the classical repertoire.
But what sort of man was Holst?
"In some way he was a shy man, but also a very humorous man, even though he often looked stern in photographs," said Laura Kinnear, curator of the Holst Birthplace Museum.
'The Planets' bought great fame to Holst but he did not find it easy.
"He wanted recognition but not the fame that went with it. When 'Planets' became popular and people were chasing him for autographs it was just horrendous for him, he hated that aspect of music making," added Ms Kinnear.
"Celebration of Holst's life"
Holst loved the Cotswolds and spent a great deal of time walking around them as a young man.
But there was one church in Gloucestershire that was of particular significance to Holst - St James the Great at Cranham, a village in which his grandparents lived and to where Holst and his family moved.
His mother was involved in the life of the church, as Ms Kinnear explained: "His mother played the harmonium, she was very musical, and she and her sisters decorated the church with flowers."
St James marks the start of the Gustav Holst Way - a 35 mile walk from Cranham to Wyk Rissington.
Roger Graham, chairman of the walk committee, said: "The walk ties in a number of places that Holst was familiar with. We have divided up the walk into five easily manageable sections."
But is it a celebration of Holst's Gloucestershire life?
Mr Graham said: "Not only to celebrate his life, but also to encourage people to walk the Holst Way and particularly to visit the Holst Birthplace Museum in Cheltenham."
For more details on Gustav Holst Way visit the Holst Birthplace Museum website.