Leckhampton Hill fort footpaths repair work to start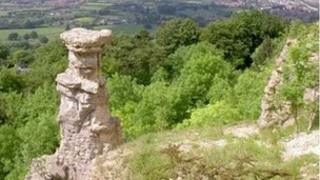 Work to repair land surrounding a 2,000 year old "nationally important" Iron Age hill fort in Gloucestershire is to start in October.
Footpaths around the Leckhampton Hill fort have eroded due to the amount of people walking on them and will be returfed or have chippings put on them.
The path leading to the hill's trig point, where there is a stone pillar, will also be repaired.
Several local councils and Natural England are funding the work.
Wayne Sedgwick, senior community ranger for Cheltenham Borough Council, said the council wanted to make visitors aware that during the work the trig and part of the Cotswold Way may be inaccessible and some fencing may need to stay in place for about six months.
He said: "This work is essential and it's great we've obtained the funding to carry it out.
"The Iron Age fort on Leckhampton Hill is a nationally important monument."