Forest of Dean disease fear: 100,000 trees to be felled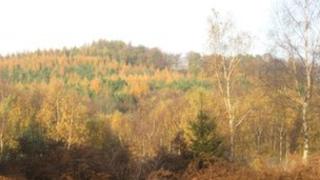 Work is to begin on felling up to 100,000 trees in the Forest of Dean to prevent the spread of a killer disease.
The Forestry Commission wants to stop the spread of the fungus Phytophthora ramorum, which has already destroyed many trees in Devon and Cornwall.
Japanese larch and sweet chestnut within 250m (820ft) of diseased trees in a 100ha (250-acre) area will be felled over the next few months.
Sites include the Nagshead reserve at Parkend and Haywood near Cinderford.
Dave Sykes, from the Forestry Commission, said: "It's going to be a big change and it's a hard thing to have to undertake.
"But for walkers and cyclists there is an upside - some views that people haven't seen in a generation will be opened up.
"It's also an opportunity for us to diversify the species of trees we use."
Trees in other areas in the Forest of Dean, including woodland at Bream, Speech House and Sallow Vallets, will be cut down.