Protest over Gloucester waste incinerator scheme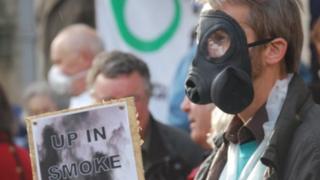 Campaigners objecting to a new incinerator in Gloucestershire have demonstrated outside a council office.
The Conservative-run council wants an energy-from-waste facility built near junction 12 of the M5.
A consortium of Urbaser and Balfour Beatty has been awarded a 25-year contract, worth £500m, despite no planning permission being in place.
Opposition parties failed in their bid to overturn the decision to build the plant at a meeting on Tuesday.
More than 50 people protested outside Shire Hall wearing gas masks and protective suits.
Save money
Councillor Stan Waddington, cabinet champion for waste, said: "We're working really hard to build a clean, safe and environmentally friendly way of disposing of rubbish that can't be recycled.
"I'm pleased the committee has backed our plans, which will also save people in Gloucestershire around £190m."
Lib Dem leader Jeremy Hilton said he believed the council was "taking a huge reputational and financial risk" in awarding a 25-year contract when there are "clearly other alternatives."
Sue Oppenheimer, chair of campaign group GlosVAIN, said the incinerator plan was "not a done deal".
"Cabinet say that signing this contract now is prudent, but instead it is reckless and unnecessary to do so before planning permission has been granted," she said.
She added: "Around the country, many applications for similar incinerators have been rejected at the planning stage and there are many good reasons for this application from Urbaser and Balfour Beatty to be turned down."
Plans for the scheme were submitted to the council in March for approval and the incinerator is due to open in 2015.