Wind turbine at St Briavels farm prepared for switch-on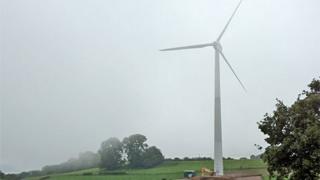 Final work is being carried out before a Gloucestershire community wind turbine starts generating power.
The 500kW unit - enough to power some 1,000 homes - has been built by Resilient Energy at Great Dunkilns Farm, St Briavels.
Shareholders will benefit from profits made by selling the electricity to National Grid.
The project has had a mixed response with some villagers against, but 300 have invested in the scheme.
Shares have been on sale valued between £5 and £50,000.
Andrew Clark, of Lydney-based Resilient Energy, said people could not only invest in the project but they could also buy green energy generated by it.
"The power is being supplied to Co-Operative Energy and people can purchase the energy from them and so have ownership of the whole supply chain to their house."
Once the installation has been inspected and passes all the necessary checks it will be connected to the electricity network.
Planning permission for the project was granted in March 2011.