Gustav Holst's trombone to be played at Cheltenham concert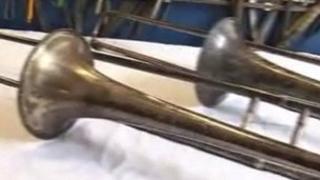 Gustav Holst's trombone is to be played at a concert to mark the anniversary of the composer's birth in his hometown.
It is believed to be the first time in 100 years it has been played together with the organ on which his "Duet for Trombone and Organ" was written.
Holst, whose most well known work was The Planets, was born in Cheltenham on 21 September 1874. He died in 1934.
The concert, which will also feature music by Vaughan Williams, will take place at All Saints Church later.
Graham Lockwood, chairman of the Holst Birthplace Trust, said: "Gustav Holst's father Adolph was the organist at All Saints Church in the 19th Century.
"Almost certainly Gustav played on the organ.
"All the indications are this will the first time the trombone has been combined with the church organ since the very early 1900s."
The trombone, on loan from the Royal College of Music in London, will be played by Sue Addison who specialises in playing historical music.
The instrument was restored in 2009 and used to make new recordings to mark the 75th anniversary of Holst's death.