Gloucestershire incinerator contract challenged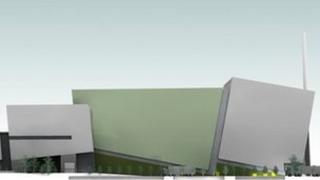 A decision to award a contract to build and run a waste incinerator in Gloucestershire has been challenged by opposition politicians.
The Conservative-run authority wants an energy from waste incineration facility to be built near junction 12 of the M5.
Last week a consortium of Urbaser and Balfour Beatty was awarded the 25-year contract, worth £500m.
Lib Dem leader Jeremy Hilton said the council was taking a "huge risk" when there were other alternatives.
'Point of no return'
A spokesman for Gloucestershire County Council said: "A call-in request... has been received and will be considered by the Overview and Scrutiny Management Committee on 2 October.
"All of the issues raised will be considered and discussed in public at this meeting."
The plant on Javelin Park would take the county's household residual rubbish - what is left over after everything that can be recycled and composted has been removed.
Mr Hilton said he believed the council is "taking a huge reputational and financial risk" in awarding a 25-year contract when there are "clearly other alternatives."
"We all accept that continuing to landfill is no longer an option, but Avonmouth's mechanical biological treatment facility is a viable, cost-effective and far better approach to waste disposal than burning.
"I am concerned that the Tory cabinet, in signing this contract before planning permission has been determined and against public opinion, is pushing this project to a point of no return."
Plans for the scheme were submitted to the council in March for approval and the incinerator is due to open in 2015.