Connors trial: Fear and violence controlled 'serfs'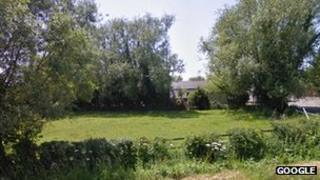 Members of a travelling family from Gloucestershire ruled over gangs of men as lords over servants, a court heard.
Bristol Crown Court heard how the men were forced to work at traveller sites in Gloucestershire, Leicestershire and Nottinghamshire.
The accused had also amassed a property portfolio and savings of £1m.
William Connors, 52, Brida (Mary) Connors, 48, their sons John, 29, and James Connors, 20, and son-in-law Miles Connors, 23, deny the charges.
'Feudal times'
Jurors heard how the traveller family used a private workforce of homeless men to maintain their lifestyle of exclusive holidays, top-of-the-range cars and a property portfolio worth £500,000.
The workers were housed in caravans at Beggars Roost site in Staverton, near Cheltenham.
The men were paid between £5 and £10 for a day's work.
Fear and violence was also used to control the workers, the prosecution said in court earlier.
Prosecuting, Christopher Quinlan QC, said: "It was a clear and unequivocal demonstration of control and dominance, of one set, the family, over another.
"It was the control of the masters over the serfs.
"It was perhaps more reminiscent of feudal times and the lord and the servants.
"If you compare and contrast the lifestyles of the workers and bosses it is like comparing a Maserati [with] a clapped-out Zephyr."
Jurors heard a witness statement from Robert Fuller, who lived at Twelve Oaks site in Oxfordshire and discovered William Connors employed workers to clean the site.
He described their living conditions as "squalid", and described William Connors as the "drill sergeant, big boss or big daddy".
If the workers did not meet a certain standard of work, Mr Fuller said the men would get a "good whipping".
The account of one worker, Andrew Thomas was read out in court. He said William and Mary Connors would hold "hosing down sessions" where the men had to strip off their clothes before they were washed down.
Another worker, Craig Sivier, had told police that "slaps were a way of life". He added: "They treated us like dirt - mud on their shoes."
A third worker, Daniel Pledge, was given £10 to live on for two weeks when he fell ill, and was driven to taking food from bins outside shops.
Surveillance video was also shown in court showing two workers being beaten by William Connors.
Police raided traveller sites in Staverton, Enderby in Leicestershire and Mansfield in Nottinghamshire on 22 March 2011.
The defendants all deny charges of conspiracy to hold another person in servitude and conspiracy to require a person to carry out forced or compulsory labour.
The trial continues.