Birdlip air pollution: Gloucestershire MEP demands action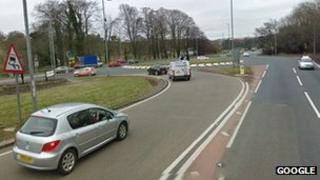 Air pollution at a traffic hotspot in Birdlip, Gloucestershire, needs to be investigated, an MEP is demanding.
Sir Graham Watson, the Liberal Democrat Euro MP for the South West, is writing to the government and hopes the matter will be taken "very seriously".
He was made aware of the concerns by a Cotswold councillor asking what could be done about high levels of nitrogen oxide (NO2) in the area off the A417.
Cotswold District Council led a public consultation into the issue in 2011.
'Hot potato'
Mr Watson said: "I hope Defra [Department for Environment, Food and Rural Affairs] will take these concerns very seriously and ensure something can be done to sort this out and tackle what is a major public health issue.
"Already a number of local residents are beginning to show signs of asthma and for too long this issue has been passed from one department to the other like a hot potato."
The Lib Dem councillor for Churn Valley, Paul Hodgkinson, said residents living near Birdlip were "very concerned" about the effects of pollution.
He said they were unable to sit outside their homes due to traffic pollution and their lives had been transformed as use of the road had increased.
Four years ago, Cotswold District Council made an Air Quality Management Area Order because the NO2 levels at the Air Balloon roundabout exceeded the recommended thresholds.
An action plan was published following the 2011 consultation but the authority emphasised that it was not ultimately responsible for the management of the highway network.