Housing need may rise to 43,000 in Gloucestershire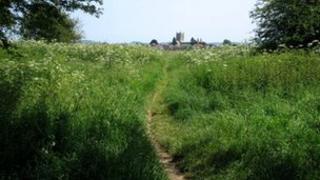 Up to 43,000 homes may need to be built over the next 20 years in Gloucestershire, an independent review has revealed.
Tewkesbury Borough, Cheltenham Borough and Gloucestershire City councils previously said 16,000 new homes were needed.
But the review states the forecast has gone up from a range of 16,000 to 40,000, to 28,000 to 43,000 new homes.
Councils will decide whether to adopt the new report over the next few weeks.
'Flattening out'
The review was held after the government asked councils to use new data and methodology to calculate future housing need.
The new methodology brings into account economic growth with as many as 27,000 jobs being created over the next two decades which is part of the reason why the housing need has gone up.
But leader of Cheltenham Borough Council, Steve Jordan, said: "As far I can see, that would mean a 600% increase of what we did have in the past 20 years so how accurate that is going to be I don't know."
Another factor which has resulted in the increase are the likely trends in household size.
"There are assumptions that household size is going to carry on dropping as it has done historically but it seems to be flattening out in reality so we want to understand a bit more about that," said Mr Jordan.
"If you take a population, the amount of people in each house makes a difference to how many houses you might need."
Meetings will be held by each council over the next few weeks to decide the next step, with Cheltenham on 24 September, Gloucester on 27 September and in Tewkesbury on 1 October.
If the figures are accepted by the three councils, public consultations will be held as part of the Joint Core Strategy process.