Human trafficking: Cheltenham arrests after brothel raids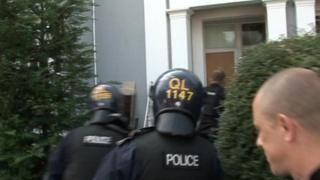 A 41-year-old woman has been arrested and two brothels closed down during police raids in Cheltenham.
Two women, thought to be victims of human trafficking, were found inside the brothels on Pittville Lawn and Suffolk Road and taken into care.
The arrested woman was detained on suspicion of managing a brothel, human trafficking and money laundering.
Met Police officers made a further arrest after carrying out raids in King's Cross, Tottenham and Dagenham.
'Internal trafficking'
A 40-year-old man was also arrested, on suspicion of money laundering.
Gloucestershire Police's Det Insp Sue Bradshaw, who led the operation, said: "Information that we have gathered over the course of months would indicate that the women that have been working at the premises have been moved around to other parts of the country.
"Technically you could call it internal trafficking which is the movement of people within the UK."
The force said the two rescued women, both of South-east Asian origin, were believed to be involved in prostitution and are now getting the support they need.
A third property in Witcombe Place was also searched and cash seized in the raids, which involved up to 50 officers.
A date is yet to be set for a one-day public inquiry, being held by Cheltenham Borough Council, in a bid to address residents' concerns about prostitution in the town.