Deal signed on £500m incinerator for Gloucester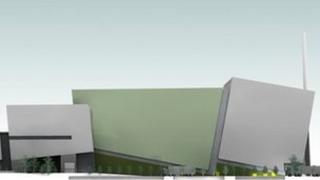 A £500m deal has been signed to build an incinerator plant close to the M5 in Gloucester.
Urbaser Balfour Beatty, which was chosen as preferred bidder in December, will build the plant at Javelin Park and run it over the next 25 years.
Plans for the scheme were submitted to the council in March for approval, which has not yet been granted.
More than 5,000 people signed a petition in 2010 opposing the plant saying waste should be recycled.
Javier Peiro, from Urbaser, said: "We have been involved since 2009 and it has been a long journey and a lot of work, so we are very pleased with this decision.
"Since we were appointed preferred bidder in December we have had more than 20 meetings with a number of groups trying to address concerns."
Planning permission
Councillor Stan Waddington, the county's waste champion, said the authority was "not insensitive to the concerns from the public".
"Just over a year ago we paused the project for five months to carry out an in-depth review to check we were heading in the right direction," he added.
"We got feedback to local residents, campaign groups and our partners and addressed concerns."
But John Marjoram, from the Stroud Green Party, urged concerned residents to take the council to a judicial review over the decision.
And Labour's Steve Lydon said he was concerned the council was deciding on planning permission for the plant.
"I think it is immoral that the county own the land, they're letting the contract and it looks like they are going to give themselves planning permission - we are supposed to live in a democracy," he added.
"I think the other factor we need to recognise is that recycling rates are rising.
"We all want people to recycle more - and yet here we are taking a backward move building an incinerator on prime economic development land."
Leader of the Liberal Democrats at Gloucestershire County Council, Jeremy Hilton, said a decision to award the contract should have been deferred until planning permission was granted and an environmental permit issued by the Environment Agency.