Queen Katherine Parr's funeral re-enacted at Sudeley Castle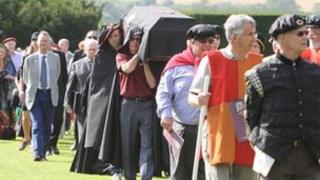 An historic re-enactment of King Henry VIII's last wife Queen Katherine Parr's funeral has taken place at Sudeley Castle in Gloucestershire.
It was staged as part of the Queen Katherine Parr Quincentenary Festival to mark the 500th anniversary of her birth.
The queen died aged 36 after childbirth on 5 September 1548 and was buried in the grounds of the castle.
Historian Dr David Starkey provided commentary for the re-enactment.
Guests wore period costume and took on the role of dignitaries and aristocrats as the funeral cortege made its way through the castle gardens.
'Moment in history'
The queen's funeral was the first service ever to be conducted completely in English and the precursor for the Church of England.
Speaking at the re-enactment, Dr Starkey said: "You are witnessing something that is absolutely fundamental to being English.
"Consider this as a dry run for the future Church of England. This is the moment in history when things change."
The service was recreated based on detailed historical records of the event.
The Rector of Winchcombe and Sudeley, the Rev John Partington, led the service as the Queen's chaplain, Miles Coverdale, complete with a plain black cassock and Canterbury cap.
Guest Ann Hutton-Potts said the re-enactment was a great occasion.
"It was very moving and the choir were magnificent," she said.