Westonbirt tree is felled for Arnolfini exhibition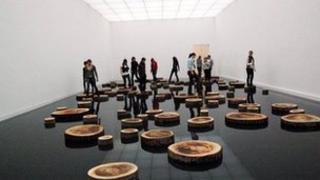 Tree surgeons at Westonbirt have begun dismantling a 150-year-old Douglas fir for an art exhibition in Bristol.
The process will take three days, as the branches need cutting off before the trunk can be felled.
Spokeswoman Katrina Podlewska, said: "Our tree team are climbing arborists, they'll use ropes and harnesses to get to the very top to cut off branches starting from the top downwards."
The 30ft (9m) tree needed to be felled because it had an invasive fungus.
"On Monday, they'll be felling the tree, and it will be in the old arboretum and people can follow signs to where they are and watch them doing it," Ms Podlewska said
The tree will be cut up into "stepping stones" and then a gallery on the first floor will be flooded, before the pieces are laid out.
The exhibition will be held at the Arnolfini gallery between 6 October and 6 January 2013.