Campaigners criticise car parking charges in Forest of Dean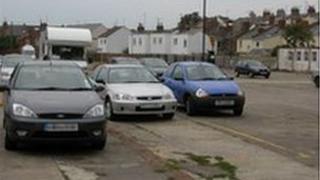 Car parking charges are damaging business, traders and residents in Gloucestershire have claimed.
Charges were introduced at 10 council run car parks in the Forest of Dean last month.
A campaign group called Hands off our Town (Hoot) claims the parking charges are putting people off visiting.
Councillor Brian Robinson said the authority was monitoring the car parks and "at the moment the car parks are being quite well used".
Parking charges were introduced in Coleford, Cinderford, Newent, Lydney and Mitcheldean on 1 July.
But Coleford town councillor, Ian Bared, said the District Council had disregarded the opinions of local residents.
"We need to encourage people here - we don't have any large tourist attractions," he said.
"So we rely on people popping in, for maybe an hour or two hours, and if they see that there's parking charges they'll just move on elsewhere."
'Keep tax down'
Ginny Blakey, from Hoot, said the charges in Coleford were leaving traders "decimated".
"As it stands we're about to lose our police station and local college," she said.
"What more are they planning to do to take the heart and soul out of a town and make it impossible for anybody to live or trade here."
But Mr Robinson, said there had been "fairly steady traffic coming in and out of car parks".
"We're looking at the amount of people using the car parks as a guide and at the moment that indicates that the car parks are being quite well used," he said.
"It is a very important step towards making the finances of this council work - which is important for keeping council tax down.
"And we will look to invest any surplus income on schemes that will benefit the town centres."