Stamps featuring Gloucestershire gold medal winners on sale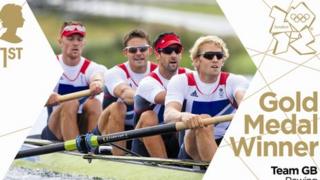 Stamps of an Olympic gold medal-winning team that includes two members from Gloucestershire went on sale on Sunday.
Alex Gregory from Cheltenham and Pete Reed from Nailsworth, along with Andy Triggs Hodge and Tom James, won the men's coxless four on Saturday.
It was British rowing's third gold medal of the regatta to match their record haul in London 1908.
The Royal Mail will also paint a post box gold in the men's home towns.
Post boxes will be painted in Mr Gregory's home town of Cheltenham, in Chiswick, London, where Mr Reed lives and trains, in Mr James' home town of Wrexham in north Wales, and in Mr Triggs Hodge's home town of Hebden, North Yorkshire.
It is the first time Royal Mail has issued stamps on a Sunday, a spokesman said.
Many post offices opened on Sunday for the first time to sell them, he added.