Archbishop to visit Cheltenham Hop Skip and Jump charity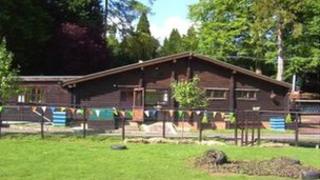 It is a little known fact that one in every fifteen families in the UK has a child with special needs.
For the past 30 years a Gloucestershire charity has been supporting children with special needs, their parents and carers.
Hop Skip & Jump at Seven Springs, near Cheltenham, was founded in 1982 by Clarissa Mitchell.
She explained how it all began: "I met a lady in the late 1970s who had not had a day off from caring for her daughter who had had polio for 44 years.
Grounds
"The 50-year-old daughter told me that when she was very ill she could stand the pain but she could not stand watching other children play."
It was experiences such as this that gave Clarissa the drive to start the charity. But where could they build the centre?
A Gloucestershire school came to their rescue, as Clarissa explains: "Sandford school near Cheltenham gave us the ground and we have never looked back."
Hop Skip and Jump, which has an indoor and outdoor play area, was built with special needs youngsters in mind.
Marc Johnson, the centre supervisor, said they have a county wide remit and accommodate children in need of respite care from four years old and up.
He said: "We run youth club activities and social clubs as well through the year and we try to cater right across the whole age range."
But excitement is gripping Hop, Skip and Jump as they look forward to the visit of a very special guest - the Archbishop of Canterbury, Rev Dr Rowan Williams.
He could be in for a few surprises during his visit:
"We are going to send him down on our lovely slide, we're making a special carpet for him to sit on and because he is an Archbishop it will of course be purple," added Clarissa.