Work begins to uncover Roman mosaics at Chedworth villa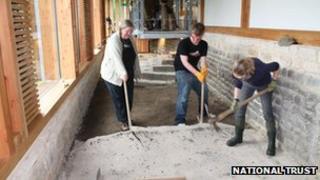 Archaeologists have begun to excavate a mosaic beneath a corridor at Chedworth Roman Villa in Gloucestershire.
At 35m (115ft) long, it is considered to be one of the longest in-situ corridor mosaics in the country.
Visitors to the villa near Cirencester are able to watch archaeologists at work from suspended walkways which have been installed overlooking the mosaics.
National Trust archaeologist Martin Papworth said: "Hopefully we'll find some exciting things."
Victorian archaeologists uncovered and then reburied the mosaics about 150 years ago.
Mr Papworth said his team were keen to see what lies beneath the soil.
He said: "We've lifted the old tarmac path that used to run along here when it was all outdoors and we're gradually working back through the 150 different layers worth of soil and we're excited by the bottom of it where we'll find this pattern mosaic."
The excavation is the culmination of £3m of redevelopment work which has seen Victorian buildings replaced, a new cafe built and a refurbished visitor centre opened at the villa.
Archaeologists have been working since 2010 on the project to uncover the mosaics.
David Thackray, head of archaeology at The National Trust, said the work being carried out was "one of our most exciting archaeological projects and is something we've been trying to do for a very long time".
He said: "This is going to be one of the longest mosaic corridors that is on public display in the country, if it all comes up nice and easily, and we hope it will add to visitors enjoyment when they come to Chedworth."
The excavation is expected to take three weeks to complete.