Katharine Lady Berkeley's School staff 'could go' to pay for repairs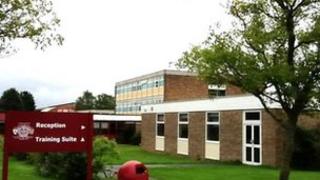 Staff at a Gloucestershire school say they could have to spend their teaching budget on building repairs.
Katharine Lady Berkeley's School in Wotton-under-Edge has failed in its bid to secure maintenance funding.
Head teacher Andrew Harris said it meant there would be "less money to spend on teaching".
The 1960s buildings need repairs to electrical wiring, wooden window frames and leaking flat roofs. Asbestos also needs to be removed.
Capital funding for repairs is allocated by the government to schools, which have to bid for the cash.
Katharine Lady Berkeley's School applied to the Academies Capital Maintenance Fund but was unsuccessful.
Mr Harris said: "The options for getting funding are limited. Capital funding for schools has fall dramatically in the past few years."
He said in 2010/11, and in the previous decade, the school received an annual grant for repairs and maintenance of "about £200,000" a year but that had fallen to £29,000 for 2012/13.
"In addition to that we could apply annually for funding from the local authority. In most years we would get £50,000 to £100,000," he said.
"So annual funding of about £300,000 has fallen to below £30,000."
Mr Harris said the money would have to come from the normal revenue budget, leading to the potential loss of a member of teaching staff.
"Over time it means there's less money to spend on teaching, [leading to] larger group sizes and less teaching resources," he said.
"The repairs have to be done. Without the capital funding that we need then that's where the money will come from."