Cheltenham lock-up garages searched after explosives scare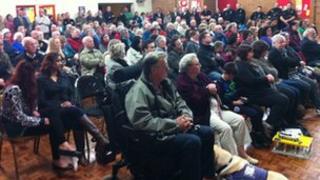 A number of lock-up garages have been searched after residents in Cheltenham raised concerns about them.
It follows a scare last month when substances were allegedly found in one of the garages on Buttermere Close and up to 100 homes were evacuated.
Cheltenham Borough Homes inspected each garage with a police officer.
A 52-year-old man has been charged with making an explosive substance for an unlawful purpose and will appear at Gloucester Crown Court on 9 July.
Landlord Cheltenham Borough Homes (CBH) contacted garage licensees to notify them of the inspection date.
The move follows a public meeting where concerned residents said the remaining garages should be accessed and the contents checked.
"We have no reason to believe, and the police have no reason to believe, that there is anything in there that will be of any concern," said Sara Bennett, from CBH.
"All our work is centred around our residents and if that is what the locality would like us to do then we are happy to help with that."