Cardiff KFC restaurant balloon trapped in Kempsford power lines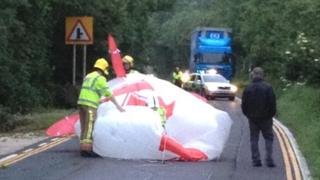 An "extremely large" display balloon became tangled in power cables in Gloucestershire after vandals untied it outside a Cardiff restaurant.
Firefighters were called to Kempsford, where the helium balloon became snared 61 miles (98km) from its moorings.
Electricity to the cables was isolated and the road closed for two hours on Tuesday while crews untangled it.
The fire service said the semi-deflated KFC restaurant balloon was "thrashing in a dangerous manner".
It is not known how long the balloon was loose for before becoming entangled in the cables.
"Unfortunately due to an act of vandalism our balloon was untied," said a spokesperson for KFC.
"We are assisting police with their enquiries to find those responsible but we apologise for any inconvenience."
The balloon travelled for some 61 miles (98km) from Cardiff to Gloucestershire.