Cotswolds group preferred bidder for Northleach Old Prison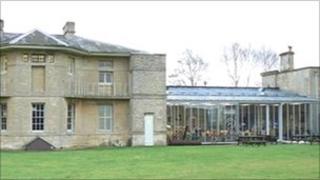 The Friends of the Cotswolds has been confirmed as the preferred bidder to take over ownership of the Old Prison at Northleach, Gloucestershire.
Cotswold District Council announced plans in July to sell the building to save ongoing repair and maintenance costs.
The group's bid included creating a higher profile for the existing Museum of Rural Life which is housed there.
Simon Randall, from the group, said the hard work of finding funding now began.
"It would be a shame if all those people who have supported us through this process will now assume that the work is complete," Mr Randall said.
"Indeed, nothing could be further from the truth and we need volunteers to come to the fore and help us realise our ambitions."
The Friends aim to restore the Lloyd Baker Collection of farm wagons and carts, and improve the interpretation of their significance.
A bid by the Cotswolds Conservation Board - which has offices and exhibitions at the Old Prison - for funding to redevelop the listed building was rejected by the Heritage Lottery Fund in January.
'Stagnating'
The council said the board would remain as the main tenant, with the Friends acting as landlord.
Council leader Lynden Stowe said: "We think that we have struck a fair balance between protecting the taxpayers of the district whilst enabling the voluntary sector to play a much bigger role in the delivery of this important local collection."
Diana Ray, a local resident who campaigned for the Friends, said: "At least £100,000 is needed for the refurbishment work, just basic good husbandry to get the building up and running.
"Then, obviously, we want to see the generation of meaningful jobs and getting the heritage site really thriving again.
"Key to that is the Lloyd Baker Collection and the other rural collections which I think everyone would admit have been stagnating a bit in recent years."
Councillor Barry Dare, cabinet member for corporate resources, said getting to this stage had been "a long and complicated process".
"We had some very strong bids on the table from the private sector, offering innovative new solutions for the Old Prison.
"The fact that both private and voluntary sectors have shown that they are willing to rise to the challenges we all face bodes well for the future of the Cotswolds."