Painswick community library opens for business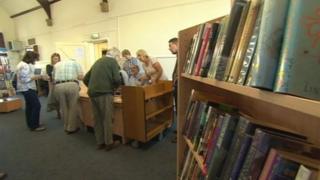 Gloucestershire's first volunteer-run library has opened for business.
Painswick lost its council-run facility in 2009 but the community has used a council grant to launch its own service in an upper room of the town hall.
It will open from 10:00-13:00 BST every Wednesday, Friday and Saturday, as well as 15:00-18:00 BST every Wednesday and Friday.
Gloucestershire County Council gave £32,000 to help set it up and £38,500 over four years for running costs.
The funding was applied for through the authority's Big Community Offer which has encouraged local people to get involved in running council services.
Three years ago the village library was closed after being declared unfit for purpose.
Since then a mobile library has served the area but the future of that facility was under review as the county council looks to cut £1.8m from its budget for libraries.